YouTube Bot upvote
Youtube software sold with the promised options, we have a highly recommended service and online support to help you use the Youtube bot!
Do not worry about the actuality of the bot if it is on the site is that it is still often updated.
Our software YouTube bot 2017 is designed in order to offer you the great exposure you wanted for your videos. We worked very hard in order to create a tool that will help make your content very popular and YouTube Mass comments is definitely what you want.
Within YouTube Mass comments you can also find a dedicated text spinner that will help you make comments more diverse even if they tend to use the same words. You can pretty much generate dozens or even hundreds of comments on the go.
With OptiBot you can send full comment in mass on Youtube, you can also rating up vote your comments in mass to make it visible to users, increase your views of your videos, you can get a lot of links by the research of Youtube bot commenter.
You will find on the right exactly what we sell on optibots.com we are still working on the bot to further improve and make it even more reliable.
Functions bot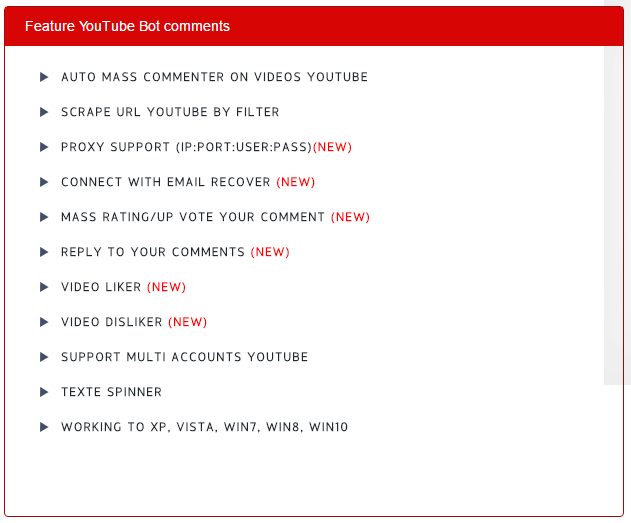 YouTube comments bot
YouTube Upvote comment bot
Y
ouTube bot subscribers and likes
 our software designed to comment a maximum of video and vote to comment to the top, we are currently working on a Bot that will like your videos with an unlimited number of accounts to get mass likes on your videos and also the YouTube disliker bot.
Y
outube and accounts
the problems now is that google sometimes asks for checks! For this our bot has the recovery email just use the format (account, password, emailrecovery) if your account does not have phone number google has no choice of your check with the email of recovery.
YouTube bot views To increase the number of views on your videos with our software it's easy, post your video on the commenters of your competitors! We have specially created other bots to make views as Facebook bot and blog.
YouTube Bot
Optibots Is the leading social media PR automation tool, built and created to be made available to consumers and business of all levels and intensities. Our main objective is to provide an all in one product that supports and offers all the features that you or your business may need to be able to successfully grow and manage your social brand and accounts. By using and having OptiBots you are assured to get great exposure for any and all of your content.
OptiBot YouTube Features
Auto Mass Commenter:
This Feature Allows you to leave mass amounts of comments on any video you desire leaving you with the ability of being able to market, promote, or share anything in mind.
Auto URL Scraper:
This Feature Gives You the ability of being provided with Custom lists of Popular YouTube videos that include Keywords you are interested in.
Proxy Suport:
This Feature Allows you to connect to YouTube using private proxy and Sock connections (Giving you a different IP for each account).
Multi Account:
This Feature Allows you to add and login with multiple accounts.
Multi Account Bypass:
This Feature Allows you to bypass YouTube/Google and use an unlimited amount of Google/YouTube accounts. This feature is very important and is not a feature that can be found anywhere else.
Extract Comment Links:
Once commenting is completed then you can extract all the comment links for future reference. Import these links to comment ratter for ranking them to top.
Comment Checker:
BOT check comments link if h'es are visible or ghost.
Auto Mass Rater:
This Feature Gives you the ability of being able to Mass Rate (Like or Dislike) Any Video with the function being entirely automated.
Auto Rate And Reply:
This Feature Rates And Comments on Every Top Comment of Any Video you desire.
Auto Video Like:
This Feature Will Auto Like any Video you choose.
Auto Video Dislike:
This Feature Will Auto Dislike any Video you choose.
Auto Text Spinner:
This Feature Will Automatically Re-word and Re-arrange text extremely similar to the original in order to prevent any possible Spam Detection from YouTube or the Content Creator.
Within having all of these groundbreaking features that will help your brand and/or business succeed you also have the great customer service that includes Live hands-on support from our team accompanied with Automatic Updates for any new and upcoming versions of our software. We don't only sell a product that will help you succeed, we also sell a service that will help get you to that place of success.
YouTube bot ★ YouTube bot comments ★ YouTube upvoting bot ★ YouTube disliker ★ YouTube Upvote comment ★ YouTube rater bot ★ Voting Commenter